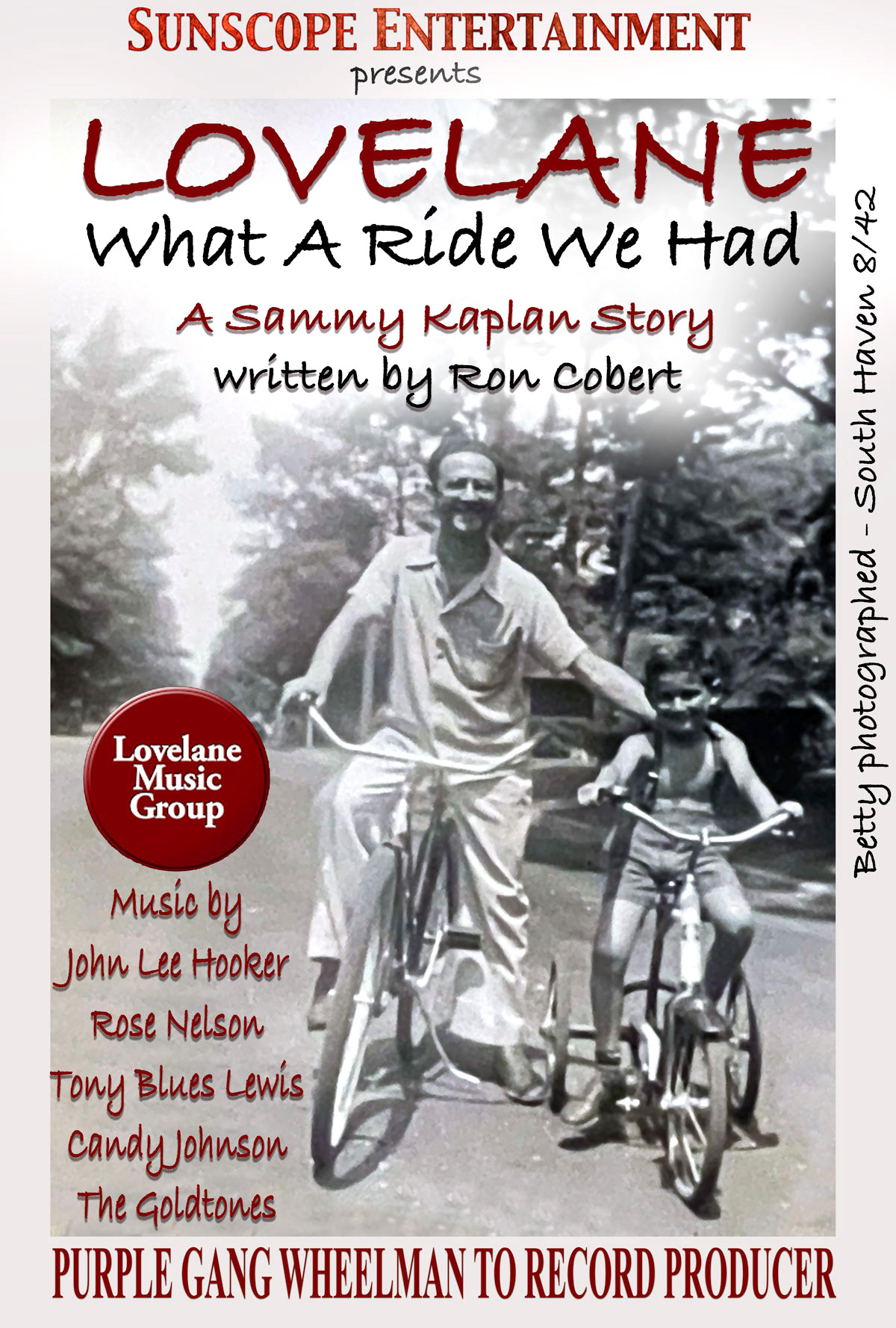 Title: LOVELANE
Subtitle: What A Ride We Had
Story by Sammy Kaplan and Ron Cobert
Screenplay by Ron Cobert
Genre: Biopic Feature Film
Hello,
Ron Cobert here, with another great story.
About 10 years ago, I came across an amazing collection of music just down the street from me with a company called Lovelane Music Group. I inquired about the price of licensing for few songs that would fit a film I had in post-production. The gentleman running Lovelane is Sammy Kaplan,  a super interesting cat with a great story to tell. As we got to know each other, we decided to collaborated on bringing his story to light.
This is Sammy Kaplan's journey.
"Morris Kaplan, my father, Betty, my mother, and me came from Detroit, Michigan. After I moved to LA in the 70s, they moved out to be closer to me in Encino, California. One day, late in his life, he gifted me a collection of music he recorded in 1948 under his music label, Danceland. I never imagined how much money this music would make me.  My name is Sammy Kaplan, 85 years of age. This is my story. 
My father was a street kid roaming Dexter Avenue in Detroit without a father, and, with a diabetic mother who needed a shot of insulin every day. Medicine, money and food was scarce, so he and his brother, Isador, or Izi, would take whatever they could to make enough to cover the cost of the much needed insulin and other supplies.   
One day when he was 16, the reigning Jewish mob of the city, the Purple Gang caught my father and uncle stealing from one of their pharmacies. The Bernstein brothers, the leaders of the Purple Gang, knew the boys' situation, and so they cut them a break, but Morris would have to work it off. The Purples brought him in to do errands and work with the Black Mob running numbers.  My dad got his first taste of the incredible Afro-American music coming up from the South. The sound was like nothing else he had every heard.
When my father reached 18 years old, Abe Bernstein told him to get his driver's license, and start working for city cab. He said, "Don't worry, you'll still work for me. You're being promoted to wheelman." Soon after, Morris, Morry, or Moishe, as they called him, meaning Moses or savior in Yiddish, was driving a taxi. When Detroit City Cab got the message, "Send Moishe," my father was behind the wheel of a supercharged Ford Taxi, running Canadian Whiskey, sometimes over the frozen water way. The dangerous runs made him good money, enough to step up our living state.
By 1935, my dad saw the writing on the wall. He started to push fearlessly to set up other opportunities that were safer. I was born in 1936, so he made the move.  The battle with the authorities and the Italians was getting worse. Some 30 gangsters went down either by death or imprisonment. The Purple Gang's reign of power was diminishing quick. My dad found himself more and more at the clubs running numbers staying away from being that wheelman.
Then the idea came to him. He was already in the middle of a hurricane of great black music talent, so he decided to take the leap and work for Bernard Besman & John Kaplan at Detroit Record Pan American Distributing music, off of Woodward Avenue, Detroit in April 1946, and soon the company established itself on the Michigan record scene. In 1947, the enterprise started its own record label, Sensation Records.
Inspired even more, in 1948, my father decided to buy a Wilcox-Gay Recordio Wire Record Cutter and produced his first songs with the black artists he knew from the club, most notably John Lee Hooker, Rose Nelson, Tony Blues Lewis, Candy Johnson and The Goldtones. This Jewish white boy lived with their music everyday since the first time I heard a record my father brought home starting at 12 years old. For years after, the recordings have given me great fortune. This is my story."