Where Exceptional Talent Shines and Grows
In the dynamic world of the entertainment industry, securing exceptional talent is more than a mere pursuit – it's our unwavering commitment at Sunscope Talent, a division of Sunscope Entertainment. We firmly believe that the core of our success lies in the extraordinary characters we bring to life, the emotions we evoke, and our ability to captivate audiences worldwide.
Diversity is Our Strength
At Sunscope, we embrace diversity in all its forms. Every character, every story, every individual is welcome here. We understand that our actors' unique perspectives, experiences, and talents breathe life into our productions. Whether you're an aspiring actor waiting for your big break or an experienced performer seeking a new avenue for your craft, we recognize that each of you contributes to the collective magic of our creations.
Representing and Developing Talent
At Sunscope Talent, we are in the business of representing and developing exceptional talent. We have access to many accomplished actors and performers, but our goal is to discover new talent and represent those. We want to grow our Sunscope Talent roster. We're here to provide the guidance and resources to help you grow into the exceptional performer you aspire to be.
---
LONDON
We are introducing London, a rising modeling and acting star handpicked and nurtured under our Sunscope Talent Division. With her captivating beauty and undeniable charisma, London is destined to leave a lasting impression on the fashion and entertainment industry. Stay tuned as we unveil her journey and watch her shine on the runway and the silver screen. London is the embodiment of talent, grace, and potential. #SunscopeTalent #LondonStar
Model:London
Photographed by Ron Cobert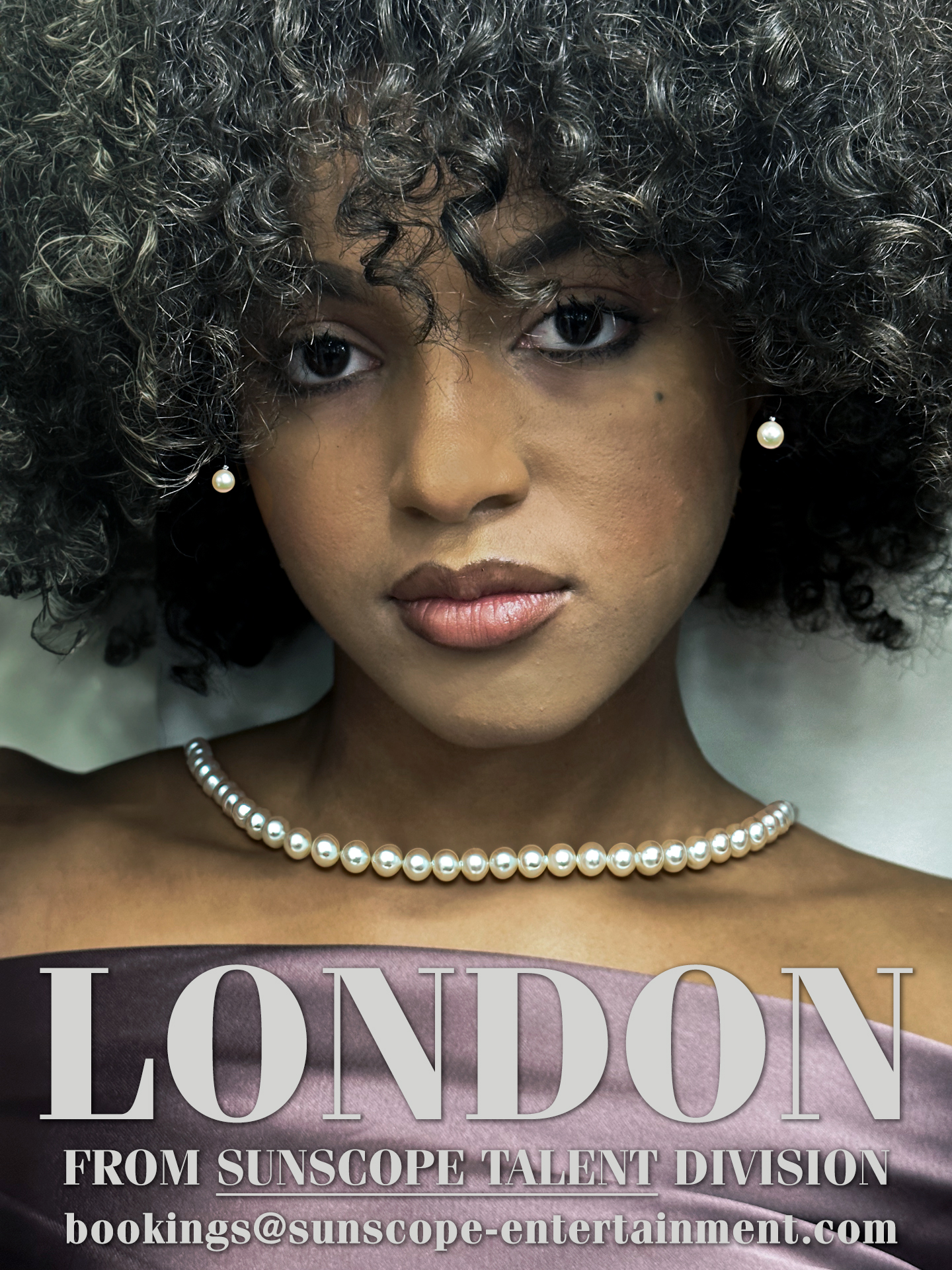 Music Video
Here's a music video London starred in playing the classic Alyssa Franklin from the Sea Shells:
---
Communicate with Us
Whether you are an agency or management company looking for talent or to develop talent, we can assist. Whether you are an aspiring actor/model seeking representation, or an established talent looking for new avenues, or someone who wants to grow and develop their skills, Sunscope Talent Division is where stars are born, careers are nurtured, and talent is developed.
---
Contact Us Today
sunscopetalent at sunscope-entertainment.com
For bookings and agencies, we are open to talk about representation.
Email us at bookings at sunscope-entertainment.com