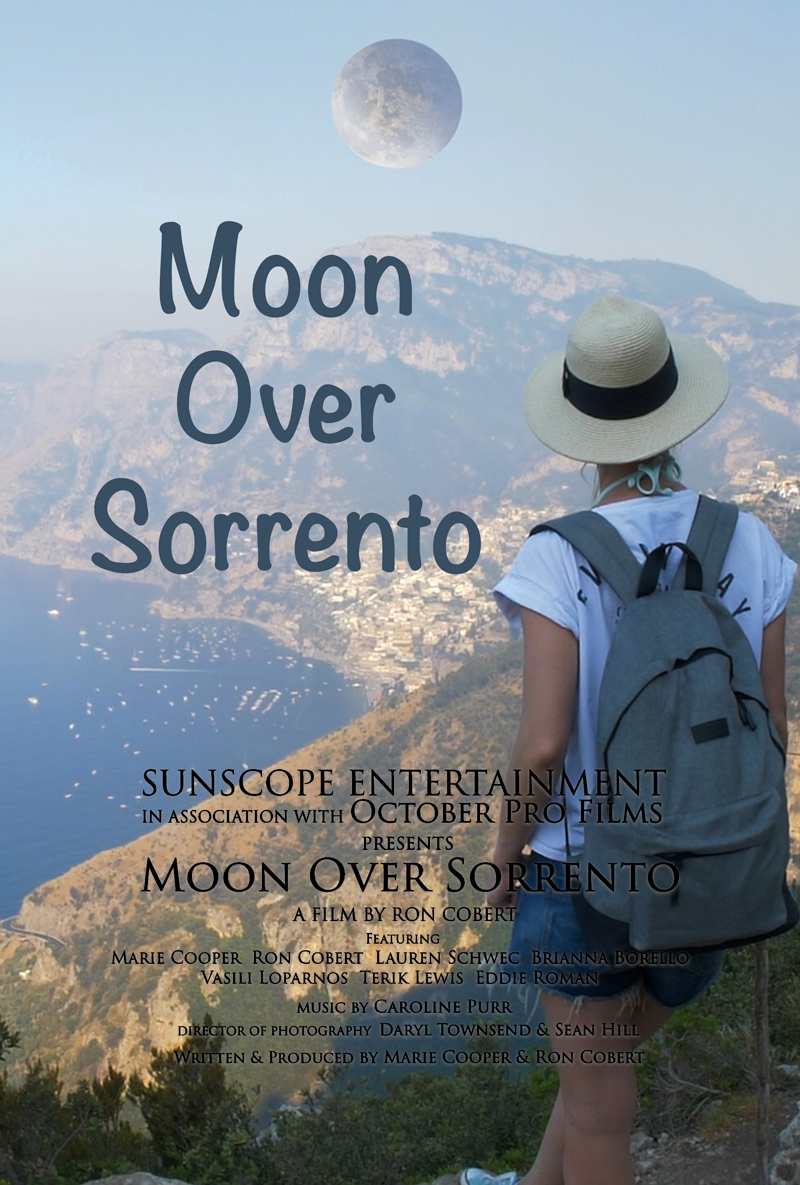 MOON OVER SORRENTO is a quirky comedic drama about a spirited family, centered around Monica who is diagnosed with a brain tumor. Centered around Monica, a wife to Roger, and mother to Sarah and Nikki, including their lovable chihuahua, Rocco, the kids are grown and still living at home, and the marriage seems to be convenient, and even a bit stale. A niece's wedding invitation for Sorrento, Italy, where Monica's originally from, is tacked to the fridge. Monica is excited to go, but Roger has his sights on business. Not only does he think he can make it, he doesn't realize just how important it is to Monica, yet, how she needs to see Italy again. Monica throws herself into doing what she always wanted to do but never did because she was busy with her family, that is, to design clothing.  All the while, her health is deteriorating. She's fainting and feeling sick, more and more. Monica sees a doctor, and is diagnosed as having a brain tumor.  Instead of falling into depression she fights to stay positive, especially after Roger and the kids find out.  Monica's strength and resilience brings the family unit even closer to cope with the new reality, all the while, she rages on to finish that wedding dress. Putting family first, Roger steps back from his business a little, and buys the four tickets. They travel to Italy with a host of comedic "fish out of water" comedic mishaps happen as they do, with Roger getting wasted on the plane, to the family avoiding a pickpocket team, to renting an undersized car that doesn't fit them and with the wedding dress, to the play with the overzealous Italian boys and men after Sarah and Nikki, to Rocco falling in love, and then, Monica's old boyfriend shows up. She closes that door properly, this time, and teaches him a lesson in being a gentleman. Then, after the great trip, the family returns to Tampa to face the music. They discover new medical treatments, and in the midst of a looming tragedy, their faith, humor and love draw the family closer.
Title: Moon Over Sorrento
IMDB LINK: imdb.com/MoonOverSorrento
Production Company: Sunscope Entertainment and October Films
Locations: Clearwater, St. Petersburg and Tampa, Florida (95%), and Sorrento, Italy (5%)
Hey Folks. We are in the development stage looking for support to kick off our Feature Film in Tampa, St. Petersburg and Clearwater, Florida that will start the process of employing artist, and promoting Florida Tourism. Help us get going. The message is all about living well as a tight family after having a family member diagnosed with a brain tumor. Help us bring awareness to the importance of innovative biotech, being in good health and family values. We are looking for $25,000 for our development stage to bring the awareness to our project. Join us today.
Here are the ways to contribute:
PayPal:
By Check:
Sunscope Entertainment
13547 Ventura Blvd #800
Sherman Oaks, CA 91423