Moon Over Sorrento Pitch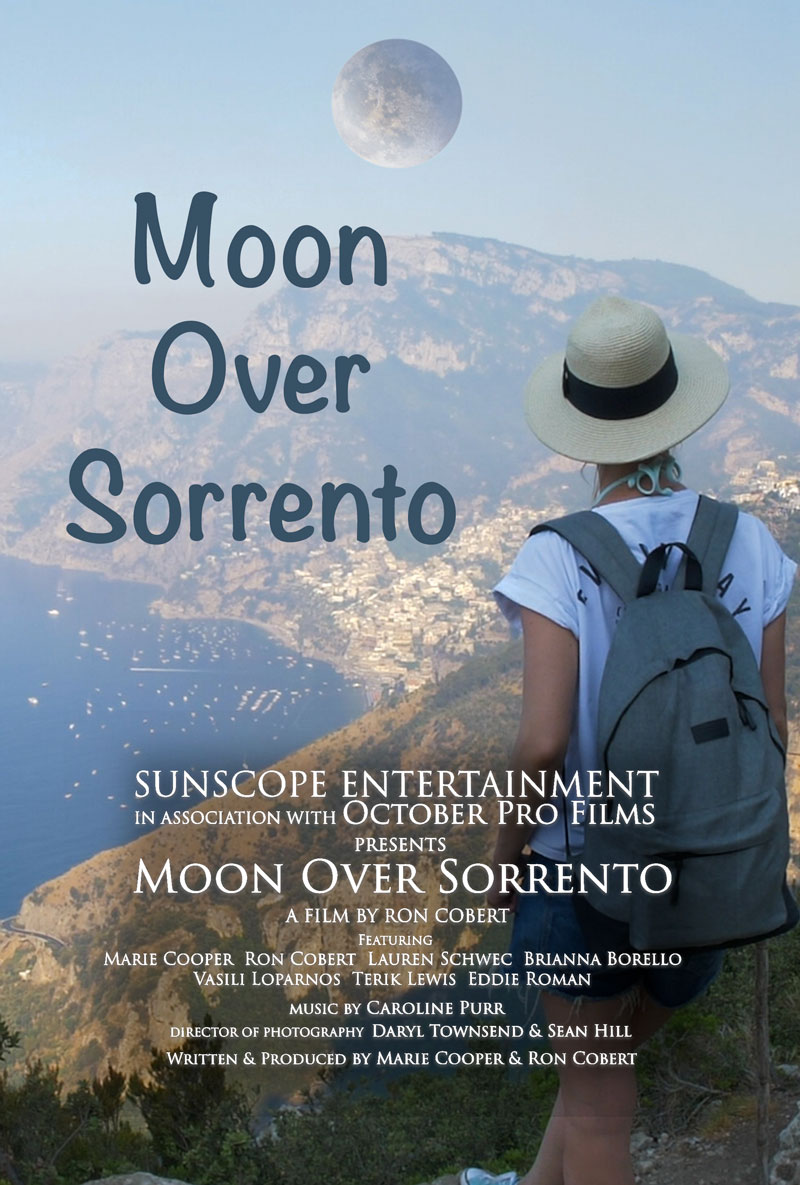 We are very excited to present to our special invitees, our presentation to participate in the Moon Over Sorrento Project.
First, press play on one of our carefully chosen below to get the feeling of who our Italian American lead character is while you read the presentation.
After you choose the song, and it is playing, scroll

past the songs

and begin reading the presentation. We do recommend with music because isn't everything better with music?
Music Choice:
"That's Amore" by Dean Martin
"Better Days" by Our very own, <span style="font-weight: 300;">Caroline Purr</span>
"Come Back to Sorrento" by Dean Martin
"Tu vuo fa l'Americano" by Renato Carosone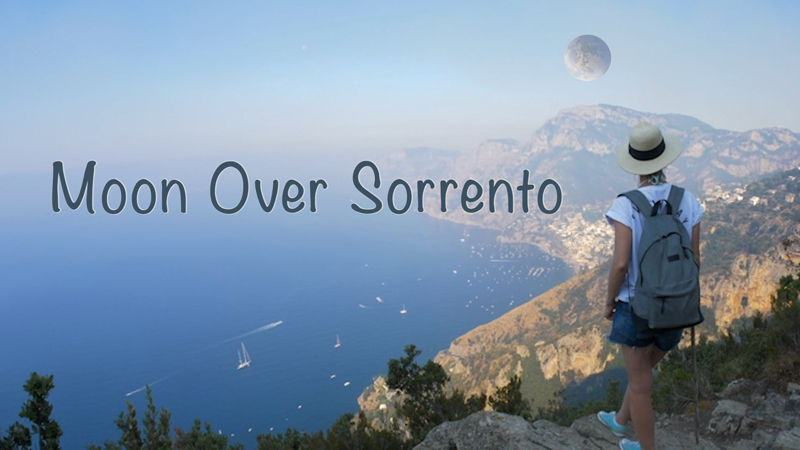 Letter to Potential Partners
Hello,
Please allow myself, Ron Cobert, and my partner, Marie Cooper, introduce ourselves.  My company, Sunscope Entertainment, is a global content provider for advertisers and broadcasters that has delivered short and long form media across the globe. Investors and brands reach out to raise the value of their business using the content we produce to increase exposure and profit.
This project shines a light on brain cancer, the strength of faith and new medical solutions that will ultimately extend the protagonist life in a touching and uplifting tale we have titled, MOON OVER SORRENTO,  a family dramatic journey about a mother and wife, Monica, her daughters, and her husband, that even with a tragedy looming. Monica is able to keep the family together by staying positive and strong.  Her husband and her daughters learn the value of family and weather the storm to live with the new reality.
As the project is funded, our team and the message can continue with the focus of showcasing a great side of Tampa, Clearwater, and St. Petersburg, Florida, and Sorrento, Italy, and cancer research.
Ron Cobert
ron@sunscope-entertainment.com
Sunscope Entertainment Corporation | Enhancing Brands and Licensing Intellectual Property
https://sunscope-entertainment.com | http://imdb.me/roncobert
https://ohyeahlive.com  | http://www.linkedin.com/in/roncobert
Synopsis
MOON OVER SORRENTO is a quirky comedic drama about a spirited family, centered around Monica, a wife to Roger, and mother to Sarah and Nikki, including their lovable chihuahua, Rocco. The kids are grown and still living at home, and the marriage seems to be convenient, and even a bit stale. A niece's wedding invitation in Sorrento, Italy, where she's originally from, is tacked to the fridge. Monica is excited to go, but Roger has his sights on business. Not only does he think he can make it, he doesn't realize just how important it is to Monica, yet, how she needs to see Italy again. Monica throws herself into doing what she always wanted to do but never did because she was busy with her family, that is, to design clothing.  All the while, her health is deteriorating. She's fainting and feeling sick, more and more. Monica sees a doctor, and is diagnosed as having a brain tumor.  Instead of falling into depression she fights to stay positive, especially after Roger and the kids find out.  Monica's strength and resilience brings the family unit even closer to cope with the new reality, all the while, she rages on to finish that wedding dress. Putting family first, Roger steps back from his business a little, and buys the four tickets. They travel to Italy with a host of comedic "fish out of water" comedic mishaps happen as they do, with Roger getting wasted on the plane, to the family avoiding a pickpocket team, to renting an undersized car that doesn't fit them and with the wedding dress, to the play with the overzealous Italian boys and men after Sarah and Nikki, to Rocco falling in love, and then, Monica's old boyfriend shows up. She closes that door properly, this time, and teaches him a lesson in being a gentleman. Then, after the great trip, the family returns to Tampa to face the music. They discover new medical treatments, and in the midst of a looming tragedy, their faith, humor and love draw the family closer, in an heartwarming story about living well, no matter the reality.
Character Breakdown
Monica (40-50 something) is a dynamic and funny lady, a mother and wife, with two girls, Sarah and Nikki. She's on a quest to finish to take the family to Sorrento, Italy with the wedding dress she wants to design for her niece, but Roger seems to be an obstacle. Monica has never been more frustrated. She is diagnosed with cancer. This enhances it all.
Roger (40-50 something) is in finance, successful, and always flying somewhere or entertaining his clients. He works too much and is obviously way less appreciative of Monica then he should be so it is affecting the marriage. He does redeem himself but not until after he hears of the diagnosis.
Nikki (early 20s) is the older of the two girls in the family. She has a party streak in her and it shows. There's a conflict with her mom always. Nikki is devastated by her parent's relationship. She's a good girl wants to be bad. She actually is affected deeply by it all. She softens when her mother diagnosed and does a 360.
Sarah (late teens) is the youngest of the two girls. She is together much more than Nikki. She is super dedicated to college, a great student and not a partier like her sister. She is torn between falling in love with Marco and not due to the situation with her mother. Sarah comes on strong helping her older sister deal with it all.
Marco (early 20s) is an Italian American guy with eyes for Sarah. He stops at nothing to pursue her. He's a good looking young with a lot of ambition to help his family build a wine business.
Alexa (40-50 something) is one of Monica's best friends, real estate agent like Monica. She's a gregarious fun loving potent sort with a million things going on at once. She is the one saves Monica's life. She's always there for her.
Leo (early 20s) is Nikki's boyfriend or friend, nobody knows but Leo and Nikki but actuality, he is gay without much of a home. He is Nikki's best friend.
Nonna (80s) is a little senile, and then she's all there. She still echoes for her deceased husband's friend.
Dr. Roberts (30s) is a serious man with raw sense of dry humor. He is Monica's doctor, who needs to get her through the treatments and to live the longest life she can.
Christoff (40s) is a Roger's partner in the firm. He seems to have it out for Roger until he realizes the tough time Roger is having.
Media Vehicle
MOON OVER SORRENTO is a quirky comedic drama about a spirited family living in Tampa, Florida, who confronts a pending tragedy with love, unity and strength. This type of content is a perfect media vehicle for branding opportunities due to the palatible story content about family values and universal theme of living to be the best we can be. Here we have the daughter, Sarah wearing a wedding dress designed by Monica, so in the process, we can integrate products and servicing within the story, stating where the dress is from using the vehicle to cut into a short spot that can be used co-branding with film.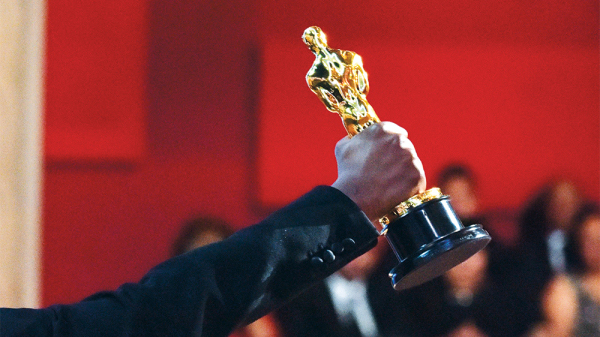 Tampa Location

Marketing Tampa, St. Pete's and Clearwater on the Global Stage
Now is the time to invest in Media & Marketing in an affordable city, and Tampa and Clearwater are attractive. Start a business or a branch expansion and attach real estate to the investment and use media and marketing to get the word out. A film is the perfect vehicle to gain publicity. We can be useful for investors with other interest.
Budget Top Sheet
$500,000 BUDGET
$1,000,000 BUDGET
DESCRIPTION
TOTALS
DESCRIPTION
TOTALS
Writing Team
30,000.00
Writing Team
30,000.00
Director
20,000.00
Director
20,000.00
Producers
30,000.00
Producers
30,000.00
Coordination
14,000.00
Coordination
24,000.00
Celebrity Talent
135,000.00
Celebrity Talent
370,000.00
Non-Celebrity
21,000.00
Non-Celebrity
21,000.00
Makeup and Hair
10,500.00
Makeup and Hair
25,000.00
Crew & Extras
17,500.00
Crew & Extras
17,500.00
Food & Snacks
10,000.00
Food & Snacks
30,000.00
Travel and Lodging
14,000.00
Travel and Lodging
65,000.00
Permits & Locations
3,000.00
Permits & Locations
3,000.00
Transportation
5,000.00
Transportation
40,000.00
Editorial
45,000.00
Editorial
50,000.00
Sound Design
15,000.00
Sound Design
15,000.00
VFX
5,000.00
VFX
7,000.00
Music
5,000.00
Music
10,000.00
SUB TOTAL
380,000.00
SUB TOTAL
757,500.00
Finders Fee 5%
19,000.00
Finders Fee 5%
37,875.00
Marketing 10%
38,000.00
Marketing 10%
75,750.00
Insurance 3.5%
13,300.00
Insurance 3.5%
26,512.50
Accounting & Legal 3.5%
13,300.00
Accounting & Legal 3.5%
26,512.50
Contingency 10.0%
38,000.00
Contingency 10.0%
75,750.00
TOTALS
501,600.00
TOTALS
999,900.00
Proof of Concept
We are in the beginning stages of this venture and we have already forged great partners in Tampa, St. Pete's and Clearwater as well as others who are looking to join to increase our team's strength. Starting first with Marie Cooper and Ron Cobert, Ron worked with Marie to complete a full length feature film script, and then, Ron visited Marie and shot a concept trailer with some local talent and crew.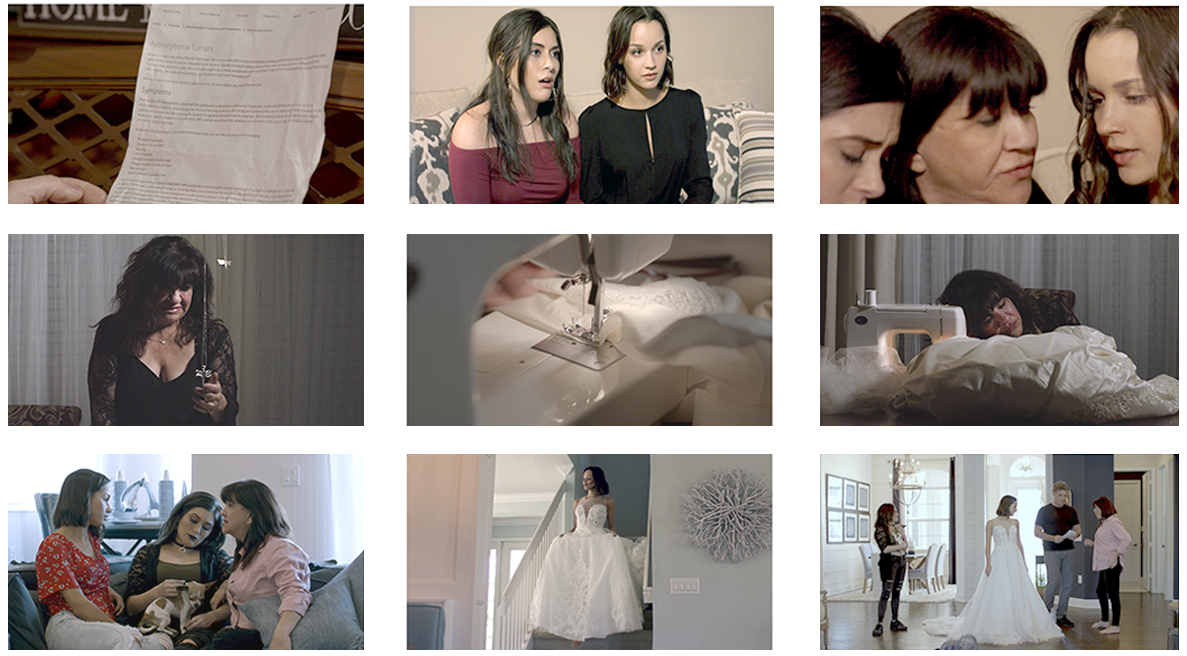 All About Sunscope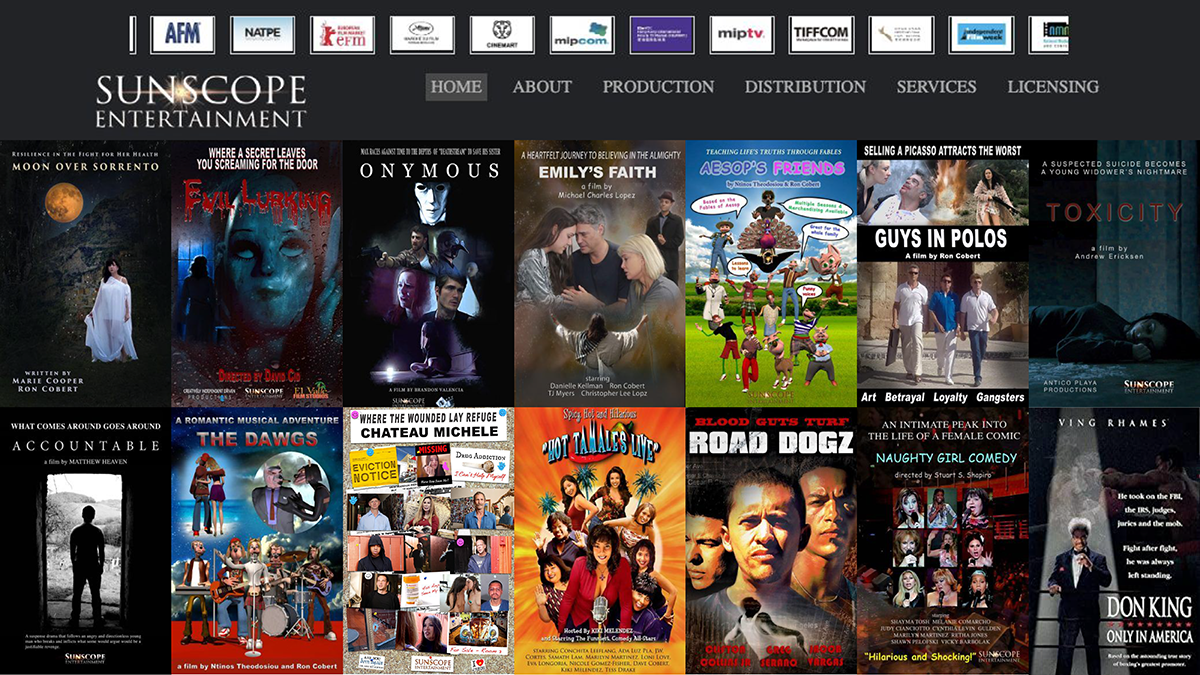 Ron Cobert – Media Creator and Distributor
Over years, Ron has participated in hundreds of commercial, television and film projects, a content provider for many years now, credited as a producer, writer, editor, director, cinematographer, director of photography, sound designer, colorist and animator, sales and distributor. In 2001, he founded Sunscope Entertainment Corporation to service advertising and entertainment clients and investors from around the world, managing millions of dollars in allocation as a producer, creating numerous advertising campaigns, television and feature film. In 2007, he founded OhYeahLive that works with tech and marketing teams to develop websites, ecommerce, apps, SEO, and other tech solutions relevant the ever continuing online marketplace surge. Ron's network is large globally, with relationships in financing, crew, talent, broadcasters, networks, studios, exhibitors and brands, actively licensing current work completed, producing and in post-production on new projects as we speak, and going through the funding phase on other projects, all genres, with an emphasis on original, marketable and well executed, including family, action, romance, horror, thriller, comedy and drama.
Marie Cooper – Writer/Producer/Actor
Originally holding a degree in fashion merchandising, Marie Cooper is a proven entrepreneur with a combination of sales and management experience. Based in Tampa, Florida, but originally born in Calabria, Italy, and fluent in Spanish, Italian and English, Marie has clients from all over the world, serving the real estate community since 1998, investing and finding funding, buying, renovating and selling properties in New York and Florida areas, receiving numerous sales recognition awards.  Marie opened Cooper & Associates Realty with her husband, Doug Cooper, and they became multi-million-dollar producers. Then with Marie's keen sense of style, management, design, product, customer experience and sourcing, she also opened and sold, The Bistro and Tea Room. Now, Marie is excited about her newest venture with Ron Cobert and his company, Sunscope Entertainment, an international media and marketing network of content pros, that focuses on bringing jobs, education, media and marketing to communities around the globe. Marie and Ron are focusing on the Tampa area with the rollout of the Moon Over Sorrento franchise that will include a multi-income stream opportunity, from co-branding, intellectual property creation, merchandising, real estate property purchase and development, licensable content and job training.
Here are the ways to contribute:PayPal:
By Check:
Sunscope Entertainment
13547 Ventura Blvd #800
Sherman Oaks, CA 91423